Closing out the week with another look at two mystery teams ...
| | | |
| --- | --- | --- |
| Team A    | Category |       Team B |
| 13-9 | W-L | 14-9 |
| 42 | RPI | 60 |
| 3-5 | Road | 2-5 |
| 4-7 |    Road/Neutral  | 2-7 |
| 3-7 | T50 | 3-8 |
| 6-8 | T100 | 4-9 |
| 5-0 | 200+ | 7-0 |
| 5-5 | Conference | 5-5 |
| 7 | SOS | 28 |
| No. 151 (A)   | 100+ Losses |    None |
These are both teams comfortably in the field right now, which says quite a bit about this year's field. So while this isn't so much an are-they-in-or-aren't-they post, it is a bit of a reality check about the state of Team A.
Granted, Team A isn't perfect. The overall record isn't pristine, and one of the wins won't count because it came against a Division II team. The road and road/neutral marks aren't great, but at least most of that work was done against top-100 teams.
The loss to No. 151 does Team A no favors, but some quick math makes it clear Team A has played more teams inside the top 100 (14) than outside of it (8). Just one game on Team A's remaining schedule is against a team outside the top 75.
Meanwhile, Team B has all the makings of what collegerpi.com's Jerry Palm would call a Home Court Hero. It has won two games away from home and one away from its area code all season. It is worth noting its seven road/neutral losses have come against top-75 opponents (six against the top 25) and have come by a combined 41 points. Its largest margin of defeat is eight points.
It is what most people would peg as a tournament team as of today. And since Team A is fairly similar, it stands to reason it would be in the field as well.
Click on the jump to find the identity of the mystery teams.
Team A is ...
(MICHIGAN STATE)
And Team B is ...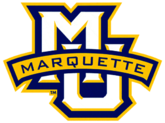 (MARQUETTE)
There's no questioning the freefall Michigan State finds itself in. It hasn't won in regulation in more than a month, and its last three games --- loss to Michigan, overtime defeat of Indiana, loss to Iowa --- have to be disconcerting.
But the sky hasn't fallen in East Lansing. Well, not yet anyway.
Clearly, the Spartans aren't the team just about everyone thought they would be. There's a variety of reasons for that. But they haven't tumbled out of NCAA tournament contention just yet, and Michigan State still stacks up well with a team like Marquette. Tom Izzo might not snag a third straight Final Four, but he still has some wiggle room if he is to keep his NCAA tournament appearance streak alive.